How to Reach Veteran Job Seekers Automatically
A powerful tool for employers to reach qualified veteran job seekers is the Resume Scout combined with the Automatic Message.  A Resume Scout is an automatic search that is run daily to find newly posted veteran resumes that meet your criteria.  An Automatic Message is an email message that can be assigned to a Resume Scout and automatically sent to all job seekers matched by the Resume Scout. This blog posting will show you how to automatically send your message to veteran job seekers on a daily basis.

If you are hiring for multiple openings, you can have different ResumeScouts and Message combinations each customized for different kinds of job seekers.
STEP 1: CREATE A RESUME SCOUT
To create a Resume Scout, navigate to the Search Resumes link in the MilitaryHire site header as shown in the picture below.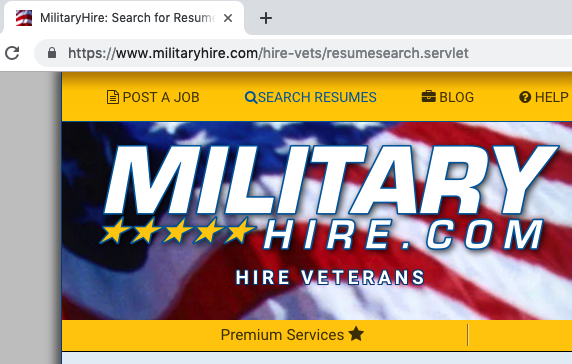 Enter your search criteria such as locations, keywords, minimum education, security clearance, etc.  Then, be sure to check the "Save this Search" option and give the search a descriptive name so you will remember the purpose of the search as shown below.  Click the Search button to save and run your search.

STEP 2: CREATE A MESSAGE TO SEND TO VETERAN JOB SEEKERS
Navigate to the Command Post in the MilitaryHire header and choose Messages to Candidates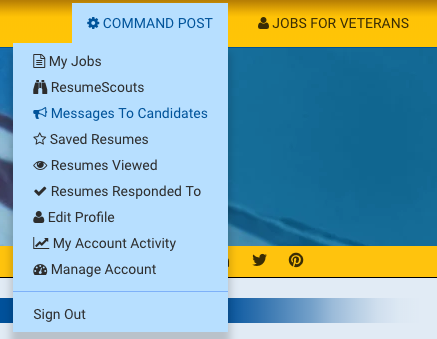 Click the Create a New Message button.  Give your message a descriptive name so you can distinguish this message from others you might save.  Then provide an email subject line to be used when contacting the job seekers.  Be careful not to put anything too spammy here such as "Best Job Ever!!!!!" or your message may be filtered by spam filters.  Do put a clear and descriptive subject line to ensure the job seeker opens your message.  
The body of your message is your chance to shine.  Be sure to clearly describe the job you are hiring for and why it is a good job.  Describe your company and why it is a good place to work.  Also it can help to mention why you are hiring veterans.  Be sure to provide contact info such as email address and optionally a phone number so candidates can get in touch with you if interested.  
Once you've written a message that will convince job seekers to reply to you, save the message. 
STEP 3: LINK THE MESSAGE TO YOUR RESUME SCOUT
Navigate to the Resume Scout page under the Command Post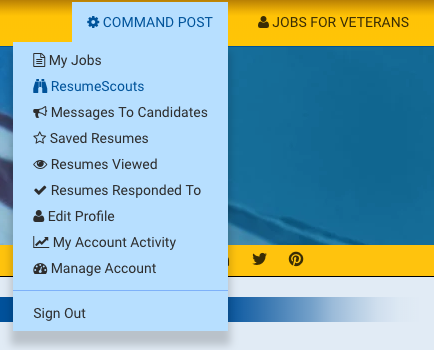 Expand your Resume Scout by clicking on its name.  Then click "Edit Search Parameters."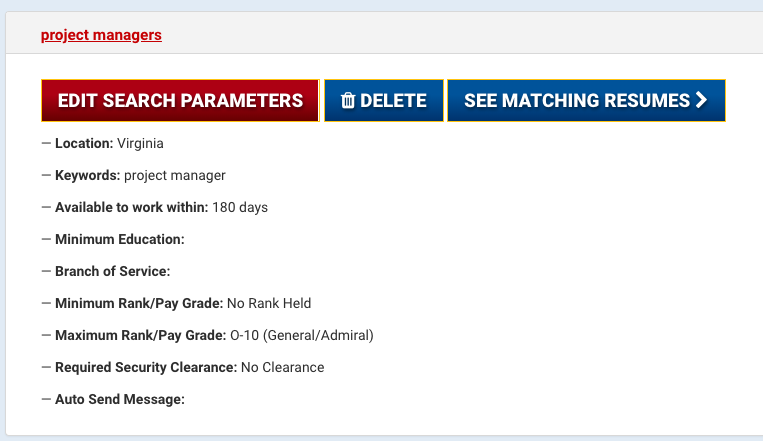 At the bottom of the page of search parameters you will find a drop down box showing all of your saved message.  Choose the message to send automatically each day when newly posted resumes match your search criteria.  Then click save to save your Resume Scout.

You can confirm your message has been linked to the ResumeScout by expanding the ResumeScout and confirming the "Auto Send Message" parameter shows your intended message as shown below.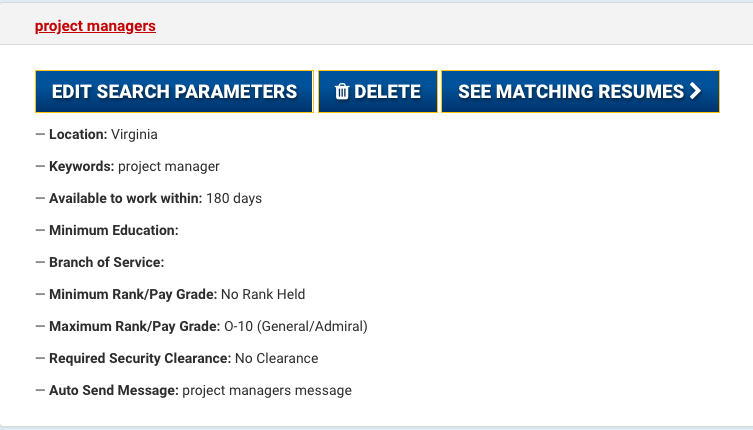 That's all there is to it.  Now the MilitaryHire system will run your search each day and will find candidates that match your criteria.  It will them automatically send your message to each candidate.  
Three steps to success:
Sign Up. It's quick and easy to start an Employer's account.
SIGN UP TODAY
Post Your Jobs.  Top veteran job seekers have conducted over one million job searches on MilitaryHire.  Post your jobs to attract this talent! 
POST YOUR JOBS
Search Resumes. Don't wait for the job seekers to find you. Set up automated Resume Scouts to scour our database and notify you of new resumes that match your criteria.
SEARCH RESUMES NOW