After the Interview Best Practices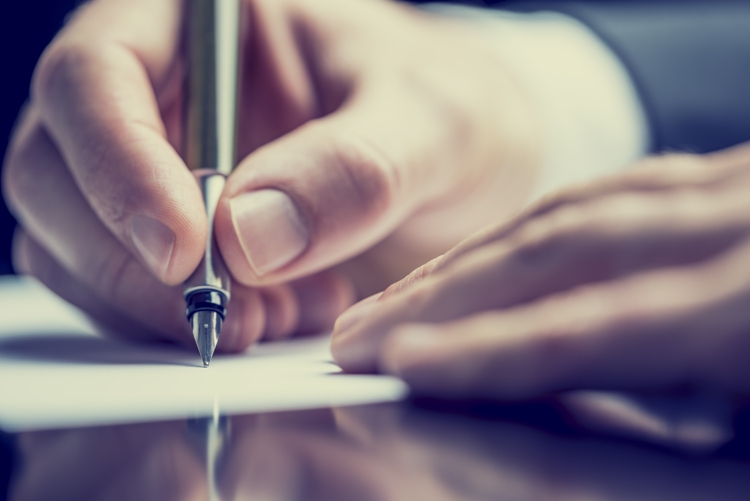 An interview is just the beginning of the recruitment process. Many job seekers take a very passive stance when it comes to the interview process, letting the employer take the lead and being reactive rather than proactive in their communication outreach efforts. Instead, job seekers can stand out from the masses if they're prompt and strategic in their post-interview follow-up efforts.
Achieve Clarity About Next Steps
John Marty is senior manager of product at Amazon, and former global product manager at American Express. Veterans, he says, "know how hard it is to execute an ambiguous order; without clarify you can't accomplish your mission." At the end of an interview, he recommends, "drop a simple promise to follow up." That might sound like this: "Thank you for your time. Is it alright if I give you a call on Friday to follow up?" The exact words don't matter, he says. "The goal here is to set an expectation and then to follow through. Not only will that remove the ambiguity of knowing if and when to follow up, but it'll establish you in the interviewer's eyes as an intentional and conscientious applicant."
Follow Up? Absolutely!
When it comes to advice from recruiters, HR professionals and hiring managers about whether or not it's important to follow up after an interview, the advice is unanimous: yes!
Heidi Lynne Kurter is the CEO and founder of Heidi Lynne Consulting. She says: "Immediately following an interview, job seekers should send a follow-up email thanking the interviewer for their time and expressing one to two points which they found to be valuable during their interview." It's important, she says, to express your confidence in how well suited you are to the role. The email should be brief—limited to about a paragraph, she says. "Conclude with letting them know you're eager for next steps and will follow up in two weeks if you don't hear back from them."
Email has some advantages, says career counselor Helen Godfrey. "In this day and age, an email thank you note is standard and can have some advantages over the written form," she says. "For one, when you follow up, you can forward your original thank you note and then add the new information you want to convey." Connecting any follow ups to your original email can help to job the memories of those you interviewed with she says.
It's a good practice to follow up with everyone who was part of the interview process. It may take some effort to get the names and titles of everyone you connected with, but the effort is well worth it.
Email, Snail Mail, or Both?
But, while in this digital age, an email follow-up is fine as Kurter and Godfrey suggest, if you really want to stand out, it's not a bad idea to also send a hard copy thank you to the interview team. As Thom Singer, CSP, says: "While an email is good, a handwritten note is better, and both is never bad. You can send a detailed email recapping the positives of the interview and then send a short, handwritten note that adds to the enthusiasm you have to be considered for the job."
To expedite this process, Godfrey suggests bringing thank you notes along with you to the interview. "Find a quiet place outside of the location where they interviewed and return to the front desk with your written thank you notes. This is a nice gesture," she says. Don't write the notes in advance, though she says. It's important to reference back to specific things that came up during the interview.
Phone is another option, but it may be difficult to actually reach the people you're attempting to connect with. If it is, Godfrey, says, "leave a voicemail with a brief message to give the listener context." Don't call without leaving a voicemail.
Texting? Although it's a common form of communication these days, it's highly informal and a bit presumptuous. Still to email, snail mail and phone as your primary means of connecting with those you interviewed with.
Each Interview is a New Opportunity to Connect
Alyssa Gelbard is founder and president of Point Road Group, a global career consulting and personal branding firm. "Send thank you's after each round of interviews, even if you met with the same person each time," she recommends. "It shows your continued interest and it's still about leaving a positive impression." And, she adds, make sure to personalize each note. Don't simply send the same message to everyone you met with. They may compare notes!
A Best Practice Example
Rich Franklin is founder and president of KBC Staffing, and has been a recruiter for a number of years. The follow-up emails he receives that he appreciates most, he says, are the ones that "show that the candidate is still enthusiastic about the role and appreciated learning more about the company and their anticipated role." He shares an example of one he received that he felt was very effective:
"Hi Rich,
"I wanted to let you know I appreciated you taking time out of your day to meet with me yesterday about the role with Company XYZ. I enjoyed hearing about how I would be working on A, B, and C. It seems like company XYZ is working on some fascinating projects that I would love to be a part of.
"Thanks again, and I'm looking forward to hearing about next steps in this process."
Don't be a Pest
But, while following up is an important way to ensure that the company knows you're keenly interested in the position, don't overdo it. "The easiest way to turn a company off from hiring you is pestering them with daily follow-ups through email and phone calls," says Kurter. "It's important to respect their space and let them keep a positive impression of you."
Keep in mind that today's recruiters and hiring managers are busy people. So, don't expect to hear back immediately or within a few days. "The average person receives over 150 emails a day," Godfrey notes. "If your main point of contact is a recruiter, he or she may be traveling a lot." Be patient.
Don't Disappear—Even If You Accept Another Job
While the point at which you accept another job offer may seem the perfect time to cease communications with other job prospects, don't do it! Godfrey recommends: "Once you accept another offer, let your point of contact know." In addition, she says, cancel all other interviews. Ghosting has become a common phenomenon these days but it's a practice that doesn't reflect well on job seekers and you never know when you may be searching for another job at some point in the future.
Make sure to leave a positive impression with all of the companies you interact with at every stage of the process.
Three steps to success:
Sign Up. You've served your country. Now let us serve you. Sign up now—it's free, quick, and easy.
SIGN UP TODAY
Post Your Resume.  Be found by hundreds of veteran friendly companies—post your resume! Don't worry if it's not perfect—you can easily update it later!
POST YOUR RESUME
Search Jobs. Don't wait for companies to find you. Set up automated Job Scouts to scour our database and notify you of new jobs.
SEARCH JOBS NOW