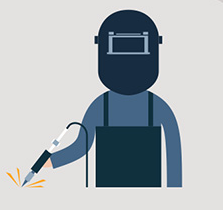 by Monica Gomez
If you're a veteran transitioning back into civilian life, one career option to consider is that of a welder. Not only is it an in-demand profession, but many of the hands-on skills you learned while in the service may also help you excel in the field of welding. For welders in the United States, Texas is the "promised land" as far as employment opportunities are concerned for a number of interesting reasons. The following infographic, compiled by WeldingSchool.com, outlines some of the characteristics that make Texas the welding capital of the world.
That Texas Touch
According to a recent survey, more than one in every ten welders currently earning a living in the country today lives in Texas. Not only does this large number mean that Texas has the highest concentration of welders in the United States, but also in the entire world. When you consider that there are an estimated 370,000 welders currently working in the U.S., this statistic is even more impressive. That means there are around 37,000 welders currently earning a great living in the Lone Star State. Texas also has a statistically high concentration of veterans—as of 2011, for example, 8.5 percent of the civilian population in the state were former members of the military in some capacity.
Different Types of Welders
One of the reasons why welders and Texas are such a perfect match for one another is because they're both diverse and versatile. There are many different types of welders out there, just like there are a great number of industries that are based in part or exclusively in Texas. According to the Bureau of Labor Statistics, the industries of architectural and structural metals manufacturing, motor vehicle body and trailer manufacturing, commercial and industrial machinery, and equipment repair and maintenance account for a large percentage of industry employment. Many companies in these industries work heavily in and around Texas; shale oil and natural gas production also account for the many welding and construction jobs in Texas.
Houston
Out of all the areas in Texas where welders live and work, the highest concentration of them appears to be in the Houston/Sugar Land/Baytown area, according to the Bureau of Labor Statistics. There are 17,600 welders working in this area alone, which means that just over six out of every 1,000 workers in the area is a welder.
Job Outlook for Welders
Though a large portion of the manufacturing industry is moving towards automation, there will always be a strong demand for welders. According to an article published in the Wall Street Journal, for example, one young Texan got a two-year degree and then honed his welding skills through on-the-job training. This determination paid off in the form of a $140,000 per year salary at a young age, which is not altogether uncommon in the industry in general. The same article also estimates that there will be around 378,000 job opportunities for welders through 2022, up 6% from the current levels.
Welding, Veterans and Texas
If welding seems like a rewarding career path to you, Texas is the land of opportunity. If you're looking for a way to transition from your life as a military professional back into the civilian world and want to participate in a growth industry with a huge amount of potential, welding is a great field to enter. Many vocational schools even offer military funding or scholarships, so be sure to research all of your options.