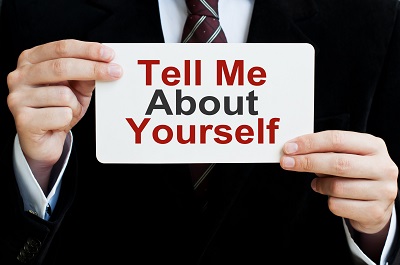 How you answer the question "Tell Me About Yourself" sets the tone for the rest of the interview. The answer to that question can make or break the interview.
An Air Force veteran recently applied for a job selling new cars at a well known local luxury car dealership. He was excited to get the interview, but caught flat footed by a question he should have anticipated. "You deliver pizzas! What makes you think you can sell cars?" But he learned from this experience. He learned to communicate his story at the very beginning of the interview. He learned to take advantage of the common interview question "Tell Me About Yourself." Six months and a promotion later, he is now the manager of a restaurant. Keep reading to learn how to communicate your story.
With any job interview, you have to be ready for the tough questions. It is important that you remain calm and composed and not let an unexpected question rattle you. This can be much easier when you have thought through the narrative or story of your life and career so far. And it can be much easier when you take the opportunity to tell that story early in the interview. Often the very first question is something such as "Tell me about yourself." That is the time to tell your story the way you want it to be heard.
When I say story, I don't mean "fairy book tale." Don't embellish your credentials or accomplishments. That can come back to bite you later. It is important that you stick to the truth through the job search process. But the way you communicate the truth can have a big difference in the impressions a manager forms about you during the interview.
How to Answer "Tell Me About Yourself"
To learn to communicate your story, you have to start by thinking back through your career and life. You want to be able to describe the events in a way that shows you as setting and achieving goals. If you are early in your career, this story might start back in high school. If you have served many years in the military, you might start by describing some of the things you wanted to achieve in your military career and then discuss how you achieved them.
It may be that your career and life have faced some setbacks. These can be some of the more difficult things to address in an interview. But the best policy is to face those setbacks head on. Admit that they happened and be ready to tell the story of what you learned from them and how you overcame them.
In the case of the Air Force veteran who was delivering pizzas, he was really caught flat footed by the question. He did not land the job selling luxury cars. But I worked with him to develop his story and to communicate it well. In many interview situations, you will not have an opening question as difficult as this. But a common interview question is "Tell me about yourself." This is often the first question in the interview. If you use this opportunity to tell your story, you are starting out this interview on solid ground.
It turns out this Air Force veteran had worked his way up from server to assistant manager at another restaurant chain. Not only that, but he had already been selected to attend a manager training program and take over as general manager of another location. He was a rising star when his father fell seriously ill. The veteran made the very hard choice to leave his job and move to another state to take care of his father. Many months later, his father had recovered. But the economy had taken a turn for the worse. His old job had been filled and he was now in a different state. And his father still needed some help, though not full time care. This veteran was not the sort to sit around doing nothing. So he took the only job he could find – delivering pizzas. He excelled at that job, of course. And as his father continued to improve, he decided he could take a job with a more demanding schedule.
Told this way, this veteran's story is compelling. He was a rising star who had already been promoted once and was on track for a second promotion. A family crisis derailed his career, but he stepped up and helped his family. As the family crisis abated, he was ready to step back into a role with more responsibility and continue the success he had previously experienced.
Once the Air Force veteran realized how strong his story was, he practiced telling it. He told it as early in the interview as possible. He was always on the lookout for "Tell me about yourself" or similar questions. And he always took the opportunity to tell his story.
He also practiced defending it in mock interviews with aggressive questions. You should do the same. Practice telling your story to family and friends. Have them "grill" you with difficult questions. Practice answering those tough questions with answers that flow from and reinforce the story of your career. You have set goals and achieved them. You have experienced challenges, maybe even setbacks, and overcome them. You must be able to communicate this without a bunch of "Uh, um, ahh..."
Our Air Force veteran took his new ability to communicate his story and got back into the job search. He soon landed an interview at a different restaurant chain. He told his narrative. Communicated his story. He was soon hired on as an assistant manager. Six months later, the skills he learned in the military had served him well. His excellent organizational skills, planning, and communication skills led to a promotion to general manager of that restaurant.
He told his story. You can tell yours.
Three steps to success:
Sign Up. You've served your country. Now let us serve you. Sign up now—it's free, quick, and easy.
Sign Up Today
Post Your Resume. Be found by hundreds of veteran friendly companies—post your resume! Don't worry if it's not perfect—you can easily update it later!
Post Your Resume
Search Jobs. Don't wait for companies to find you. Set up automated Job Scouts to scour our database and notify you of new jobs.
Search Jobs Now