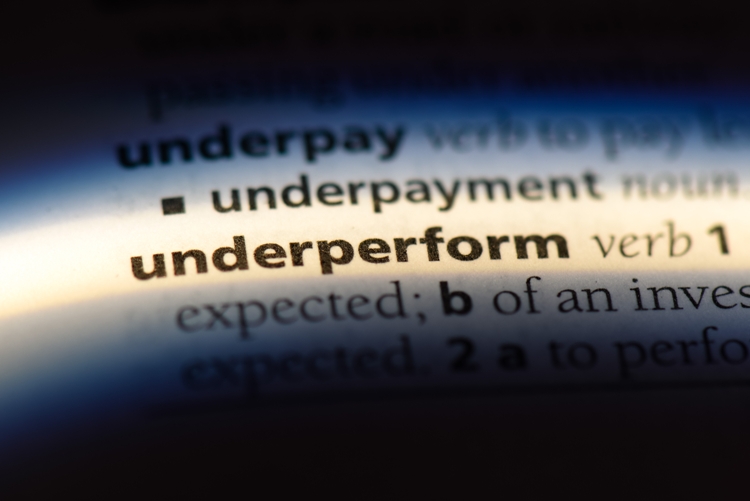 When preparing for an interview it can be extremely helpful to anticipate the questions you are likely to receive and to prepare your responses to those questions so you have the opportunity to show yourself in the best light possible. For most jobs, there are certain common questions that you could expect to be asked and we've covered some of these previously. When you're applying for a job in a supervisory or management role, you can definitely anticipate questions related to how you work with others—and how you oversee the work of others.
One question your interviewers are likely to be interested in is: "What do you do when a team member is underperforming?" Here, chances are the interviewers are trying to get an indication of a couple of things:
How well you establish and communicate objectives to staff members

How adept you are at offering constructive feedback

What steps you take to build and maintain relationships, even when you must address areas of underperformance
Related Article: How Do You Answer the Interview Question: "How Do You Lead Others?"
Those who have served in the military are certainly practiced at getting very direct feedback—sometimes positive, but often constructive. Those who have served in leadership roles are likely also adept at providing feedback, although the style of feedback in the military may be more direct than some organizations may be comfortable with. For those in between, especially those without experience giving feedback, it's important to think carefully about the outcomes the employer is likely looking for—chief among them, a high-performing team!
When You Have Experience Providing Feedback
If you have experience providing feedback—whether in the military, or in another job role—you have an opportunity to share information about how you have handled these types of situations. In fact, in some cases you can expect that this type of question might be asked from a behavioral interview standpoint. For instance: "Tell me about a time when a team member has underperformed? What did you do?"
Here's a good approach to take as you frame your response:
Indicate your philosophy about giving clear direction and communicating clear expectations

Indicate your commitment to working with employees to help them succeed and being available to them to answer questions or provide support or resources as they tackle an assignment

Convey an interest in providing quick, immediate and specific feedback

Share an experience

Indicate what went well and what you might improve in the future
This might look something like: "My philosophy as a manager is to be very clear when communicating objectives to employees to make sure they fully understand what my expectations are. I also like to make sure that they know I'm there to provide them with support and have an open communication philosophy so I can be informed if they need additional support or resources. When a team member underperforms, I like to address the situation immediately. In one case I…What I learned from that experience was…In the future I would…"
Some important best practices which providing this type of feedback include:
Seek first to understand. Ask the employee to explain to you what they believe went wrong and what they feel needs to happen at this point.

Convey a sense of "we're in this together."

Avoid personal blame, focusing instead on specific observed behaviors or actions. For instance, you would not say: "You really messed up," or "You're irresponsible." Instead you might say: "When you neglected to follow up with this prospect in a timely manner, they reached out to a different vendor."
Your goal is to convey a team-based approach to working with your team to achieve desired performance outcomes. You're there to support, not berate.
Related Article: How Do You Answer the Interview Question: "How Do You Work as a Member of a Team?
When You Don't Have Experience Providing Feedback
Even if you don't have experience providing feedback, you certainly have experience receiving feedback—in the military and, potentially, in other job roles. You can draw upon that experience when responding to this type of question. For instance: "While I haven't previously been in a position of providing feedback to underperforming employees, I have received feedback and have observed managers provided feedback to others and what I've learned is the importance of giving clear direction, addressing any issues as quickly as possible, and being constructive in communication. Good feedback isn't about making employees feel bad; it's about helping them do better in the future. I would definitely call upon my own experiences and observations in approaching any issues with underperforming staff members. I believe I can also play a role in helping to minimize underperformance by being very clear in giving directions, being available for help along the way and addressing any issues as immediately as possible."
As above, you could sum up by referring to the best practices for providing feedback, indicating that, in your experience, these practices helped to make the feedback most productive and useful.
A Follow Up Question You Might Expect
Whether or not you've had prior experience providing this type of feedback It's important to also indicate to the interviewer how you would plan to follow up with the employee to ensure that performance did, indeed, improve. For instance: "At the end of our discussion I would want to make sure the employee understood the improvements that were being asked for and that we set up a time and date for follow up." This lays the foundation for a response to another question you might anticipate as part of this line of questioning: "What if the underperformance continues?"
Here, the interviewer is trying to assess how you would handle a progressive discipline situation—whether you would follow up, or let issues slide. Your response might be threefold:
As I mentioned, when having the initial discussion I would want to establish clear expectations and a timeline for follow up.

I'd want to make sure I was familiar with the company's progressive discipline procedures and expectations and, depending on the situation, might sit down with someone from HR to have a discussion before talking to the employee.

I would meet at the scheduled time and provide objective feedback about performance based on our prior discussion and the points we had agreed upon.

I would take whatever steps necessary to move forward with progressive discipline if it was warranted.
Anticipating the types of questions you might be asked in an interview and preparing in advance to address them can help you feel more relaxed, confident and ready to tackle even some tough questions that potential supervisors or managers might face.
Three steps to success:
Sign Up. You've served your country. Now let us serve you. Sign up now—it's free, quick, and easy.
Sign Up Today
Post Your Resume. Be found by hundreds of veteran friendly companies—post your resume! Don't worry if it's not perfect—you can easily update it later!
Post Your Resume
Search Jobs. Don't wait for companies to find you. Set up automated Job Scouts to scour our database and notify you of new jobs.
Search Jobs Now