Work from Home Scams Targeting Veterans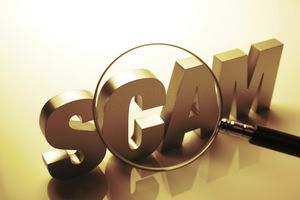 Yesterday, I applied for a job that was being offered as a work from home scam.  Today, the scammers tried to steal $4,950 from me! In this article, I will show you how the scam works.
If you have not read the first article in the series, I recommend you start with yesterday's article about my Google Hangouts Interview.
Today, I checked in as instructed for Day 1 of my new job.  I checked in with Mr. Robert Morrison.  Yesterday he was HR.  Today he was my boss.  Our interaction was through Google Hangouts.  My comments in this chat are highlighted in blue and appear to the right of the screen.  The scammer's comments are highlighted in yellow and appear to the left of the screen.  When I want to comment on the chat, the text will not be highlighted.
Good Morning,How are you doing today?
I am good, thank you.  Looking forward to starting my training
The company have agreed to issue out the funds for your all what you will need to get started with your work this morning once you have all your working materials at hand that is when your training will commence with your training supervisor understood?
I think so.  The company is sending me money to buy a computer and other materials?
Yes i have your tracking # on my desk now..Are you ready to receive it?
yes
This is your tracking # J2357066443 from UPS.com..I need you to look it up online now and let me know when it will deliver to your location…
Looks like it will arrive by 10:30 this morning
The address I gave them yesterday was bogus.  UPS will not be able to deliver the package.  I hope they are not paying attention to the delivery status themselves. It did make me chuckle that they had overnighted a check to me.
Okay i believe you will be home to receive it?
yes
I believe the company can ensure your full trust and commitment towards this job ?
absolutely
All we need from is  to care about the future of the company and are willing to invest the discretionary effort – exceeding duty's call – to see that the organization succeeds.And we will be waiting for that so you can enjoy every moment working with us
I'll let you know when the package arrives
This is the newest online screening that makes things easy for every applicants, no needs for ups and down, you can easily access your applications and Hiring process, this helps Mothers,Fathers with children at home and also gives room for working class applicant to participate as they might be at there current job, so with this process they will easily access there new Job..Do you have a space you can use for your Mini Office at home?
yes.  I have room to work from home
We are always looking for dedicated members to join our team.  If you enjoy taking on new challenges, working in a fast paced environment and working with a great group of people, then Vondial LLC is a good fit for you!
I am confused.  I thought I was hired yesterday.  Your last two messages sound like you are trying to talk me into joining the company.  I thought I joined the company yesterday.
I do have a job with Vondial, right?
He is busy trying to keep me excited about my new "job."  As he reveals next, he wants to make sure I focus on rules and regulations because he is about to start asking me to do some odd things.  Things that should start making alarm bells ring in my head.
Yes you already have a job with us i am just telling you to make sure you are focus and follow all the rules and regulation so you can enjoy all the moment working with us…
ok. great!
Every new member receives a welcome call within the first 30 days. We verify their primary care provider, explain our plan policies, and help them take a Health Risk Assessment (HRA)—so every member gets the right care at the right time.
I am curious the dollar amount of the check that will arrive this morning?
The total funds that will arrive to your location is $4950.00 that will be for your working materials and your mini office equipment…Is that clear?
I thought it best to find out how much money they were sending me before the package delivery failed.  I thought that might make it easier to play along with the scam later…
The package has arrived!  What are my next steps?
At this point, UPS had already updated the package status as undeliverable due to a bad address, but the scammer wasn't paying attention to that.  He was too busy trying to steal money from me.
Okay,The check is designated to be deposited for funds availability..I believe you are familiar with Mobile Deposit?
yes.  I have that app on my phone.
Okay just have the check deposited Via Mobile Deposit and let meknow once done so we can proceed further on the next step..
What step are you now?
had a bit of trouble logging into my banking app.  I am logged in now and depositing the check
Okay let me know once you have it deposited..
ok.  I have deposited it
Okay how much is the total funds available for your use now?
Now we have reached the heart of the scam.  When you deposit a check, the bank often makes some or all of the funds available to you before the check has really cleared.  The scammer wants me to spend the money before the check bounces.  When it does eventually bounce, my money will be long gone.  And if the bank account is now overdrawn as a result, the bank will demand the money back from me right away.
how do I check that?
oh, wait, I see it
Just check your balance and let me know if the total funds available for your use
my balance is $8,227.65
Normally it takes hours or even a day for the bank to allow you to access the money from a deposited check.  I made up a large balance so the scam could proceed immediately.
Yes all the funds as been available in your account now..I believe you are ready for further instructions on the next step?
yes
Okay let me get the full Instructionns from the Accounting department
Hello are we still connected?
I have the full instructions with me now..Letme know when you are ready to proceed further on how you will be getting your working materials from the company Vendor..I am waiting for your prompt response to avoid any setback…
Hello are we still connected?I am waiting for your prompt response..
I'm ready
You will be making a payment of $3600 to enable the vendor Agent start installing the software's she will be responsible for any updates and patches. they will also need to perform manual data backups and secure the data to meet HIPAA standards.Understood?
what is HIPAA?
They are one of the Equipment you will be using and the Vendor will the the one to install it for you so they can deliver your working materials to your location..Do you have any Wellsfargo bank around you?
let me check google for the nearest one
Okay check Google for the nearest Wellsfargo around you and let me know once that is done..
There is one that is pretty close
Okay you will be making a Cash Deposit of $3600 to the Vendor account details i will provide for you now so they can get the funds and get all your working materials to your location today to avoid any setback..Is that clear?
By withdrawing cash from my account and depositing that cash in another account at another bank (or sending it via Western Union), I am losing that money.  I won't be able to get it back when the original check bounces.
yes
Get a pen and paper and let me know once you are ready for the Vendor information so i can generate it for you…
I'm ready
This is the Vendor Account Information you will be making the Cash Deposit
==============================
Name on account: [redacted]
Routing number: [redacted]
account number:[redacted]
Account type: Checking Account
Bank Name: Wells Fargo Bank
Location: Grovetown Georgia
Got it?
got it
I actually called Wells Fargo at this point to report that this account was actively being used for fraud.  I was quite surprised to find out they were unwilling to take any action.
Okay you are to proceed further and  get the cash deposit done so the Vendor can start coming over to your location to deliver all the working materials and you can get started with your training and there is a signing bonus of $150 assign for you so you can use it for gas during the task..How many minute will it take you to have this dine and get back to me online for further instructions on the next step?
I can get it done more quickly if I just write a check and take it to Wells Fargo.  Will that work?
That will not work they will need a cash deposit
He is insisting on cash because if I were to write a check, I might have time to put a Stop Payment order on the check after the scammer's check bounced.
That Is the means of payment they require
ok.  I can run by my bank and withdraw the cash and then go to Wells Fargo.  It will probably take half an hour or so
Do I just need to withdraw $3600 plus $150 for me?  Or do I need to withdraw more for other vendors?
So just withdraw the cash from your account and get the cash send by Cash Deposit done to the Vendor account I provide for you so there will not be any mistake
Yes that is all you need
ok.  thanks.  I'll let you know when it is done
Okay I will be here to connect with you once you are back.. The company is here to provide you with the job that will benefit you and your family for good.
What step are you now?
just got back from making the deposit at wells fargo
Okay take a clear picture of the deposit receipt and forward it to my email for final confirmation
And you can also upload it here
hiringmanager4vondialllc101-AT-gmail-DOT-com
oh, I'm sorry.  You didn't tell me to keep the receipt.  Or if you did, I missed that part.
I threw it away at the bank
I'm hoping I can get by without a receipt.  Because I never received the check, never deposited it, and certainly didn't give the scammers $3600 in cash.  I'm hoping to slide by without a receipt, but the scammer is quite insistent.  I suspect he does not have access to the account, but rather has to provide the receipt to an accomplice to prove he brought money into the scam.  Then perhaps he gets a commission.
Okay just go and get the copy now Asap
Just go now it is very important
ok.  I hope they have not emptied their trash cans
Just request for the receipt at the bank
They will give it to you
Go back now the Vendor is waiting for it
on the way now
Okay I am waiting for your prompt response once you get the receipt take the picture and send it to me
Are we still connected?
I just sent you an email
Sorry it was crumpled up. I didn't realize I needed to keep it
what are the next steps?
Since he would not give up on the receipt, I gave him a poor imitation of a receipt.  He goes quiet here for an hour or so.  I assume he has figured out that I am on to his scam.  But then he comes back and wants to steal even more money from me!
The next part of the scam is an iTunes gift card scam…
Are we still connected?
Your prompt response is needed let me know once you get my message?
please send me the next steps
Hello
Talk to me Asap
Okay the next step is to get your time tracker.And the time tracker will be use to calculate your working hours online..I believe you are ready for further instructions on the procurement of your working materials?
I am waiting for your prompt response…
I am ready
Okay do you have any store close to you?
what kind of store?
A store you can get an iTunes Card?
Because the iTunes Card will be use to activate your time tracker and the Technical Department will be in charge of that so look up online and let me know the nearest store close to you…
yes.  I think [store name redacted] sells those
Okay all you just need to do now is to proceed further to any store around you and get an iTunes Card of $900 in the denomination of $100 each or $50 each so it will be the total of $900..So just get that now and get back to me onine for further instructions on the net step..Is that clear?
yes.  I will contact you when that is complete
Okay just have that done now and get back to me online because the Technical Department is already online to get your time tracker activated..How many minute will it take you to have that done and get back to me online?
about an hour
Okay just proceed further now and have it done i will be online waiting for your promp[t response..Have a nice trip..
I have the iTunes cards.  What is the next step?
You are to scratch the back of the iTunes card and  take a clear pictures of the back of the iTunes card  each and upload it here so i can forward it to the Technical Department so tehy can start the activation of your time tracker…
This is another classic scam.  It is quite prevalent and apple warns customers not to fall for it.
ok.  give me a few minutes to do that
can I email you the pictures?
Yes you can email the pictures..
should be in your inbox now. Please let me know next steps
I searched the internet for some pictures of iTunes cards and sent those.  I'm sure they are no good because anyone with the code can redeem the cards and these pictures, with codes, have been posted to the internet for quite some time.
Okay hang on i will get back to you Asap…
I will get paid for all this time i put in today right?  At the training hourly rate?
Yes the cards you sent as been redeem before you send it
so we are all set then?
Do you have the receipt of the iTunes Card with you?
I might have left it in the car.  i can go look.
Okay go inside the car now and get me the receipt..
One thing I thought was odd.  You said to scratch off the back of the card.  There was nothing to scratch off.  They came from [store name redacted] already scratched off
I'm trying to convince him I have fallen for yet another scam in the middle of his scam.  Sometimes people will scratch off the silver coating to reveal the numbers without buying the cards.  This allows them to steal the value of the cards.  But he doesn't seem to follow what I am saying.
I'll go look for the recipt now
Okay go and look for the receipt now
I found the receipt an emailed you a copy
None of the code you sent is not correct
Does that mean someone stole the codes at [store name redacted]?
Should I call the police?
to report that I was sold bad gift cards?
Or just try to return them?
I'm still trying to convince him I fell for another scam in the middle of his scam.  He is starting to get upset…
I cannot understand all this
What do you mean by all this
Are you joking with me or what?
You told me to scratch off the back of the cards before taking the pictures.  But there was nothing to scratch off.  The codes were already showing.  They were that way when I bought them.
Now you say the codes have already been redeemed.  I wonder whether someone "stole" the codes by scratching off the back without buying the cards
Then I come along and buy them
I am not sure what to do in this situation
You need to go back and get the unscracth card
but I don't have any more money to spend.
I'll go back to the store and talk to the manager and see what he says
This is where we ended our conversation for the day.  If you have read this far, you now understand how these scams work.
The scammer sends you a check and has you deposit it in your account.
Before the check really clears, he has you withdraw the funds from your account.
He has you deposit the cash in a different account at a different bank.
He might also have other means of getting the money.  For example, having you buy iTunes gift cards or sending the money via a money wiring service.
When the original check bounces, you will be out all the money you spent.  In the case of this scam, you would be out $4,950.00!
Don't fall for this scam.  Please share and link to this page and to part one of this story: Google Hangouts Interview.  Help fellow veterans avoid this scam.
Three steps to success:
Sign Up. You've served your country. Now let us serve you. Sign up now—it's free, quick, and easy.
SIGN UP TODAY
Post Your Resume.  Be found by hundreds of veteran friendly companies—post your resume! Don't worry if it's not perfect—you can easily update it later!
POST YOUR RESUME
Search Jobs. Don't wait for companies to find you. Set up automated Job Scouts to scour our database and notify you of new jobs.
SEARCH JOBS NOW