Top Veteran Employers: Community Impact Category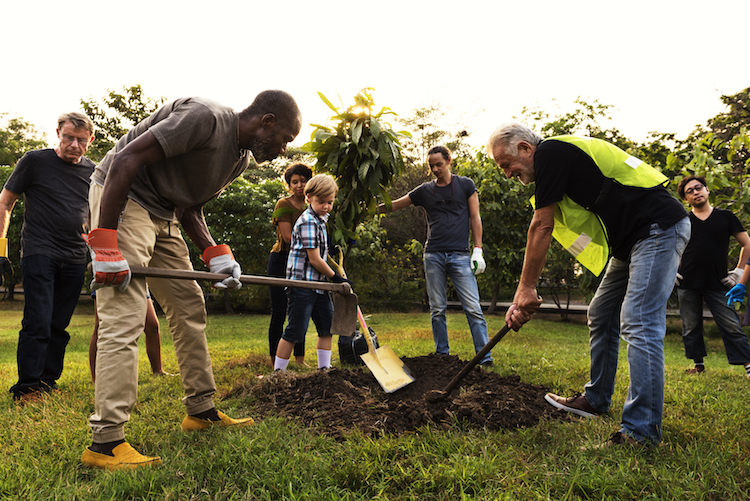 When one family member serves, the entire family serves. The stresses of war and everyday service tasks are not limited to the servicemembers. Cases of stress, depression, grief, and PTSD in family members of the service member are well-documented.
That is why MilitaryHire.com recognizes companies that not only serve our heroes but are also giving back to the community that supports veterans.
The Community Impact category highlights the community service programs for veterans that our Top 110 Veteran Employers are conducting to give back to veteran communities through their involvement and support of programs that assist, rehabilitate, and aid veteran families.
AECOM
AECOM values the outstanding contributions veterans make to their organization and have a long-standing commitment to supporting those who serve as well as those who have returned to the civilian life. As part of this commitment, AECOM partners with organizations such as the Wounded Warrior Project, Semper Fi Fund, and American Corporate Partners. Read more...
Alorica
Alorica's support of the military runs deep. Amongst other programs, in partnership with La Quinta, Alorica provides financial support to the Fisher House Foundation, a non-profit agency that builds "home away from homes" for families of patients receiving medical care at military and VA centers. Read more...
CarMax
The CarMax Foundation has dedicated as much as $1.4 million to support organizations that support military and veteran families. Community service initiatives include a partnership with KaBOOM!, to build playgrounds in military neighborhoods around the country. And, we'll be donating play equipment - Rigamajigs and Imagination Playgrounds - to nonprofit groups that serve military families, such as Fisher House. Read more...
Combined Insurance
In a demonstration of its continued commitment to supporting U.S. military servicemen and women, Combined Insurance donated a total of $50,000 to two military and veteran-related charitable organizations, Luke's Wings and Heartland Alliance in 2018. Read more...
Cushman & Wakefield
Cushman & Wakefield offers veterans rewarding work related to their skills and talents, a culture that celebrates veterans' contributions and leadership, and established employee resource group made up of individuals with common experiences. Cushman & Wakefield is proud to partner with Operation Finally Home, a charitable group that provides homes and home modifications to America's military Heroes and the widows of the fallen who have sacrificed so much to defend our freedoms and values. Read more...
Deloitte
Deloitte is a proud presenter of the Warrior Games. The games are designed to introduce wounded, ill, and injured service members and veterans to Paralympic sports competitions and to encourage them to stay physically active in their communities. Read more...
Dominion Energy
Serving our heroes at Dominion Energy is just another day! Beginning in World War I, employees sent soldiers care packages, and continuing until today, they have focused on those who serve our country. Dominion Energy has implemented several programs like DE Charity Classic and provided bill assistance to over 2,300 veterans. Read more...
General Motors
General Motors commitment to veterans is evident in their multitude of community service programs for veterans, and partnerships with support organizations, such as, the Achilles Freedom Team of Wounded Warriors, GM Military Discount Program, and Cell Phones for Soldiers. Read more...
Habitat for Humanity
Habitat for Humanity's Veteran's Build initiative provides volunteer, homeownership and employment opportunities to U.S. veterans, military service members and their families. Through this program, more than 2,000 veterans and their families have partnered with the Build to improve their housing since 2013. Read more...
Home Depot
The Home Depot Foundation works to improve the homes and lives of U.S. veterans. Since 2011, the Foundation and Team Depot has made an impact on more than 37,000 veteran homes and has donated more than one million dollars to veteran-related causes. Read more...
JPMorgan Chase
In 2011, JPMorgan Chase co-founded the Veterans Job Mission, a coalition of more than 235 companies dedicated to hiring a total of one million U.S military veterans. In addition, the financial organization has invested $45 million toward community service programs for veterans programs to help military families. Read more...
L3 Technologies
Beyond the technologically advanced products that L3 Technologies provides, L3 demonstrates a commitment to our troops with substantial community involvement and outreach efforts such as sponsoring annual Veteran's Day events, hosting service member homecomings, and awarding veteran charities. Read more...
McKesson
McKesson partners with several military support organizations; however, its in-house support group, McKesson Military Resource Group, provides networking and mentoring support to its employee veterans across the company, and provides key input to McKesson business leaders on issues that are top of mind for veterans. Read more...
Medtronic
Medtronic works to add more veteran's to the team with their Veteran Employee Resource Group (VERG). VERG works with veterans leaving the service to help them acclimate to a civilian job position. Read more...
Nations Lending Corporation
The most important thing to Nations is taking care of our veterans in-house. The Nations Lending Veterans Resource Group sponsors seminars which help to educate veterans on VA loans -- what's out there for them, how these loans work, how they are beneficial to them and their families. This group helps veterans better acclimate themselves into the workforce, and provides essential resources as an employee at Nations Lending. Read more...
Progressive
Every November, Progressive hosts one-day vehicle giveaway event, Keys to Progress®, for veterans at various Progressive offices and authorized vehicle repair facility locations across the United States. Progressive has donated more than 600 vehicles to veterans and veteran organizations since 2013. Read more...
Sallyport
Sallyport is committed to supporting veterans as they pursue challenging and rewarding careers within many of their business areas with career transition programs like Virginia Values Veterans, a Commonwealth of Virginia Department of Veterans Services Program whose mission is to educate and train employers. Read more...
Tatitlek Corporation
Tatitlek Corporation's roots are in the Alaska Native Village of Tatitlek. located in the shelter of Copper Mountain along the Tatitlek Narrows in beautiful Prince William Sound. Responsibility to our shareholders is integral to our mission. We pay regular dividends, offer scholarships, educational, and career opportunities, and foster cultural awareness both within and outside the shareholder community. The Tatitlek Corporation strives to bridge the traditions of our village with global economic opportunity enhancing the quality of life for our people. Read more...
TQL
TQL honors service members each year with their Hauls for Heroes campaign that donates a portion of every load moved during Veterans Day weekend. Since its inception, the program has donated $187,881 to charities like Disabled American Veterans. Read more...
Union Pacific
Union Pacific's UPVETS, an employee veteran resource group, attracts, develops and retains veterans within the company. The group is open to all employees and gives veterans a chance to connect with other employees throughout the system as they transition into civilian jobs and navigate their careers. Read more...
U.S. Bank
Hiring and supporting veterans and military family members is part of U.S Bank. Among many of its community service programs for veterans, its H.O.M.E. (Housing Opportunities after Military Engagement) program is the most unique. U.S. Bank donates bank-owned homes to military service organizations, which in turn renovates and donates them mortgage-free to wounded veterans and their families. Read more...
Verizon
Verizon recognizes not only veterans and valuable skill set, but also the people that support them. The communications company hosts a Military Spouse Talent Network to give veteran spouses a strong foundation to keep moving forward. Read more...