Top Veteran Employers: Veteran-Friendly Category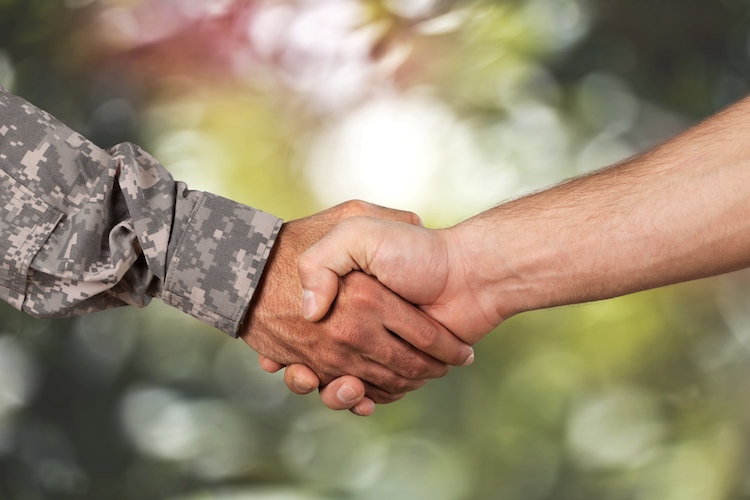 The Top 110: Celebrating Those Who Serve Our Veterans is broken down into five categories. The Veteran-Friendly categories recognize companies that not only hire veterans but ensures a satisfactory work-life balance by establishing benefits that increase the quality of the veterans of living and providing a positive workplace culture.
With more than 70 percent of workers reporting that they feel unsatisfied with their career, we think that it's important not only to place veterans in positions but to also provide a workplace that is veteran-friendly.
These Veteran-Friendly companies were evaluated by employee reviews from Glassdoor and Great Places to Work.
Acuity
Acuity employees say their workplace stands apart for its generous investment in people, according to Great Place To Work. That's reflected in profit sharing, a whopping 8 percent yearly 401(k) contribution and other benefits that nearly all team members (98 percent) consider unique. Beyond what they take home, employees also describe a place where challenging jobs come with frequent celebrations to keep spirits high. Read more...
American Express
The benefits at American Express are just as varied as its diverse workforce! Employees enjoy varied employee networks, 20 weeks of paid parental leave, up to $35,000 reimbursement for parents that adopt or use a surrogate, and a $500 welcome back benefit for veterans returning home from deployment. Read more...
BlueCross BlueShield of Arizona
What qualifies as a good benefits package? Take notes from BlueCross BlueShield of Arizona! A good benefits package that includes a great 401K plan and full compensation package with health, dental, life, short-term disability and long-term disability, along with top-notch facilities, such an onsite fitness center and cafeteria; and teleworking opportunities. Read more...
Capital One
Embracing diversity is critical to getting the best talent! Capital One flourishes in an open culture where a meritocracy of ideas and harnessing collective wisdom trump titles and hierarchy. It believes that its workforce should reflect the communities and customers that it serves. That is exemplified by its strong disregard of sex, race, color, age, veteran status, and other demographic information within its workforce. Read more...
Conagra Brands
Conagra isn't just defined by the great food it makes - but also by the driven, collaborative people who make it. It's committed to providing a safe, healthy and rewarding place to work by investing in its employees and creating a highly engaged inclusive workforce. With that in mind, it builds a culture where diversity is an expectation, inclusion is the only choice and belonging is everyone's reality. Read more...
Experian
Innovation is at the heart of what drives Experian, so, it's no surprise that it fosters a culture of innovation across the organization by creating highly-collaborative work environments, breaking down traditional hierarchies, and bringing together diverse experts from across the business to deliver new capabilities to customers, add internal efficiencies, and positively impact societal challenges. Read more...
Intelligent Waves
Financial support is crucial, but so are wellness initiatives that ensure the wellbeing of employees. Intelligent offers supportive services like its Employee Assistance Program that provides counseling and referral services to their veterans, whether they are in need of personal, health, or wellness assistance to make sure that wounded veterans and their spouses are job ready. Read more...
INTUITIVE Research and Technology Corporation
INTUITIVE celebrates accomplishments that fortify and develops a company culture based on respect and teamwork. To exemplify these company values, INTUITIVE offers a generous benefits package that exceeds standard packages. The benefits package includes three types of Flexible Spending Accounts, a 401(k), as well as, flexible work hours and a creative incentive program. Read more...
NCI
The NCI company culture encourages different views to inspire creativity and innovation with the unified purpose of providing solutions that have our customers' best interests in mind. Read more...
Paychex
Paychex is praised by employees for its consistent work-life balance, positive company culture, and competitive benefits package. It offers healthcare, paid time off, group term life insurance, and income protection. Read more...
Quicken Loans
Quicken Loans mission is greatness and they believe it. And greatness can only be achieved with and extraordinary company culture. People who work there have the opportunity to make an impact everyday which is returned by the folks at Quicken Loans with comprehensive benefits and perks. Read more...
Russ Davis Wholesale
The foundation and success of Russ Davis Wholesale was built on people and relationships. The company says that its employees are its most important asset and are instrumental to its success. Russ Davis offers a comprehensive Benefit Package including a employee stock ownership plan, employees assistance program, and life insurance with accidental death and dismemberment. Read more...
Safelite
Safelite Autoglass is a People Forward organization and firmly believes that talented, happy and engaged associates deliver the best result. Which is why Safelite takes the time to recognize employees with unique benefits and awards. Read more...
Schneider Electric
At Schneider Electric, they're building a culture in U.S operations that embraces and empowers veterans, and in turn, is enriched by their experience, perspective, and capabilities. In addition to the standard benefits package, they offer perks employee veterans especially enjoy like 6% match on 401k plans. Read more...
Southwest Airlines
Southwest Airlines is dedicated to to hiring veterans and supporting military spouses. This support extends beyond initiatives to hire veterans, but also support them with a positive work culture, unmatched benefits, and financial rewards. Read more...
Suburban Propane
Through Suburban Propane's, "Heroes Hired Here" program, military veterans who accept a permanent full-time position can take advantage of the Veteran Buddy Program, Reservist Training Compensation, and endorsement reimbursement fees. Read more...
Teradyne
Teradyne is a leading technology company, but what about the people? They're smart. They're diverse. They share a commitment to its communities. Its values are created and upheld by its employees and remain consistent, even as markets, strategies and goals change. It is committed to the principles of equal employment opportunity and non-discrimination and it believe every person has the right to be treated with fairness, dignity and equal consideration. Read more...
The Hartford
At The Hartford, your salary is just one component of your total rewards package. Its total compensation also includes Short- and long-term incentives that reward performance, a comprehensive benefits package to help ensure your health and wealth, two weeks paid military leave, up to 24 weeks military pay differential for deployments, and a degree development program. Read more...
U-Haul
U-Haul supports and honor all veterans for their service and sacrifice to protect our freedoms. That is why it goes the extra mile to support our armed forces not only through their business moves with commemorative super graphics on the side of its trucks to comprehensive employee benefits. U-Haul has earned what one Glassdoor reviewer said is "One of the best moving companies" because of its family-like environment. Read more...
VMware Inc.
VMware provides a meaningful exchange of value for the talents, expertise and contributions that our employees bring to the company every day. VMware Rewards supports personal well being, builds financial security, and enables employees to share in the success of VMware including employee discounts, transportation reimbursements, subsidized cafes and fitness facilities. Read more...