Top Veteran Employers: Company Values Category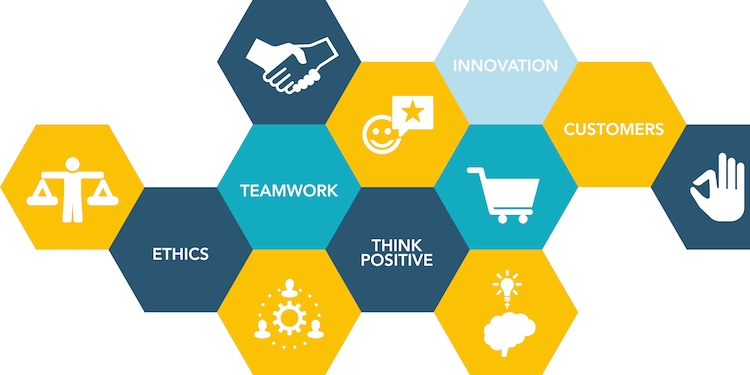 Each military branch operates under a set of core values that unites the active duty, reserves, and veterans on the battlefield and in civilian life. These values are what band together millions of veterans and active service members.
The top veteran-friendly employers featured in the Company Values category embody some of the many core values and characteristics that the military embody.
Aetna
Aetna and veterans: the perfect match. Aetna's core values of integrity, excellence, caring and inspiration are very similar to military values. It offers veterans a chance to grow with a healthcare leader. Together we can build healthier communities, a healthier nation and a healthier world. Read more...
Amgen
Amgen knows that veterans take great pride in their work, and it is proud to share your dedication to a strong set of values and to making a positive impact in the world. Amgen prize the leadership, skills, and dedication to service that veterans exemplify. That's why it actively recruit those who have served into a variety of leadership, management and staff roles. Read more...
C & J Energy Services
C & J Energy Services values the core values and characteristics of servicemen and women as they bring discipline, initiative, leadership, the ability to work effectively within a team and an extremely strong work ethic to our workforce. The same values that C & J depends on for success. Read more...
DaVita
At DaVita, it is a community first and a company second. We find that military veterans and families share in that concept, embracing teammates (employees) and our patients. Men and women from the armed forces typically deeply embrace our core values of Service Excellence, Integrity, Team, Continuous Improvement, Accountability, Fulfillment and Fun and share the idea that we are a connected Village. Their understanding and dedication to 'Service Excellence' and 'Team,' and all of our core values continue to be a tremendous asset to our Vision of becoming the greatest healthcare community the world has ever seen. Read more...
ATSG
ATSG is very familiar with the high caliber of these young men and women who represent some of America's best and brightest. It is convinced that veterans represent a ready-made pool of exemplary candidates who are perfectly matched for the detailed, highly-disciplined projects at federal agencies. Their infused respect for authority and disciplined service mentality makes them especially well qualified for detailed work in a high-compliance, security-sensitive environment like ATSG. Read more...
DynCorp
At DynCorp International it is our commitment to conduct business honestly, ethically and in accordance with best practices and the applicable laws of the U.S. and other countries in which we operate. It is guided at all times by the highest standards of integrity, whether dealing with customers, co-workers or others. Read more...
Eaton
Leadership, discipline, creativity, integrity, and teamwork-the skills you gained in your military career are valued at Eaton. Here, you'll recognize the principles that you valued in active duty. Teamwork. Taking pride in what you do. Valuing new ideas. An environment that fosters learning and teaching. Read more...
Engility
Engility works relentlessly to serve its customer with a top of the line service. It is able to deliver on this promise with goals that reflect the urgency and tenacity of the task. A few of its values: determination and grit, inspired imagination, humble service, and uncompromising integrity. Read more...
EPS Corporation
Enabling the Warfighter is the cornerstone of EPS Corporation's business. EPS supports the United States Army, Navy, Air Force and Marine Corps, in addition to federal and state agencies and commercial customers. They are committed to the mission success of their customers and are proud to be a company that their customers trust. Read more...
Esterline
Integrity is at the core of what Esterlife does. Even more, it operates under the five R's - respect, responsive, relationship, retention, and relentless. Read more...
First Data Corporation
Veteran-owned financial services company First Data Corporation knows a thing or two about military values. The organization welcomes veterans into the fold practices that demonstrate vigilance, ethics, and integrity. Read more...
GoWireless
The GoWireless pledge highlights the culture that empowers employees to do the right thing for customers, for the company, and for their team every day. They value customer satisfaction, employee empowerment, and a supportive team environment. Read more...
Koch
Let your service guide you to success. Even more, let your values, steer you to a meaningful career. Koch core values- integrity, compliance, and respect- aligns with those instilled in the military. Read more...
KPMG
Veterans and active military bring tremendous value to KPMG. Their training, skill set and discipline compliment the values that KPMG has established within their community including lead by example, work together, and integrity. Read more...
Logistics Solutions Group
Logistics Solutions Group takes pride in their record of achievement. Their corporate culture and commitment to principles provides the foundation for their success. LSG strives to provide the professional, efficient services, which their contracts require. Their reputation as a viable government contractor is of primary importance to LSG. Read more...
ManTech
With uncompromising integrity and ethics ManTech values, its position of trust with its clients and keeping our commitments is fundamental to success in all its engagements. Its people that ensure our reputation and the success of our company. Quality in all that we do-delivering best value to our clients through our quest for excellence, and innovation, we seek to deliver the best value for our clients. Read more...
Merck
Armed forces and Merck have a couple things in common - a mission and values. Merck's mission is to improve life by tackling health challenges for people throughout the world. Merck pursues this goal with a company culture based on core values including ethics, integrity, innovation, diversity, and teamwork. Read more...
PAE
PAE know that you're already comfortable working under pressure, and you have a strong sense of cultural understanding and global thinking. It encourages you to check out the background of its leadership - you'll find many who have been in the places you have, have worn the nation's uniform as you have and who get who you are and what you have to offer. Read more...
PricewaterhouseCoopers
Teamwork, loyalty, adaptability are all qualities valued in a PwC employee -- they are also ingrained in those who have served in the military. Just another reason why veterans and active service members are a good fit for PwC culture. Read more...
Spectrum
Intertwined within Spectrum's culture is ethics. They believe the two go hand-in-hand in affecting the quality of its work. They influence our pride, morale, and workplace improving the quality of its daily tasks and products both for internal and external customers. The combination of Ethics + Culture = Continued Quality and Compliance with Spectrum's Quality Management System. Read more...
SAIC
At SAIC, you could continue to have a vital role in our customers' ongoing missions. We offer a corporate culture of respect, accountability, close teamwork, and the highest ethical conduct. Read more...
Sundt
What do you need to be successful at Sundt? Dedication, loyalty, respect, selfless service and discipline. Qualities that U.S. service members are well-equipped with! Read more...
Wegmans
Values start from the top, and it just so happens that Wegman's founder, Mr. Robert Wegman, was a veteran. Wegman incorporated military values from his time in service into his business - care, high standards, make a difference, respect, and empowerment! Read more...
Xcel Energy
Xcel is committed to hiring and retaining veterans because they share our core values of dedication to teamwork and commitment to community. Read more...