Top 110 Veteran Friendly Employers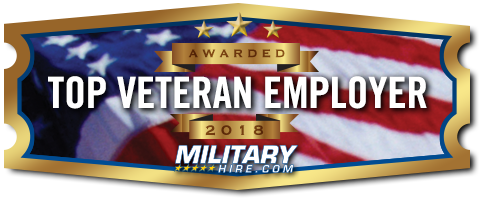 When duty calls our service members go above and beyond to protect the United States. Missions take them across the globe to territories unknown to the average citizen to improve relations and protect the innocent. However, when these everyday heroes return to home soil they are met with underemployment, unemployment, and homelessness.
Tackling this epidemic of unemployment and homelessness, dozens of thousands of organizations and companies have stepped beyond the line of duty to ensure a safe and secure transition from the service to civilian positions.
MilitaryHire.com celebrates and recognizes just a few of the top companies who serve our veterans by making an accommodating environment, and gives back to the veteran community.
Our veterans give 110% effort in everything they do, and to honor that work ethic, this list names 110 top veteran employers.
In order to highlight the exceptional characteristics of the Top 110 Veteran-Friendly, we broke each down into categories that feature why they were chosen for the honor. See who is on the list below, and check out a few of our favorites in our job search!
Veteran-Friendly
The Veteran-Friendly category evaluates the overall satisfaction of company culture, work-life balance and benefits based on employee reviews from Glassdoor and Great Places To Work.
Acuity
American Express
BlueCross BlueShield of Arizona
Capital One
Conagra Brands
Experian
Intelligent Waves
INTUITIVE Research and Technology Corporation
NCI
Paychex
Quicken Loans
Russ Davis Wholesale
Safelite
Schneider Electric
Southwest Airlines
Suburban Propane
Teradyne
The Hartford
U-Haul
VMware Inc.
Diversity & Inclusion
The Diversity & Inclusion distinction recognizes companies who have deliberate programs in place in an effort to hire veterans. These employers have recognized the value that veterans add to the workplace and proactively recruit service members through job fairs, veteran-specific programs, and scouting.
Accenture
Addx Corporation
Aviall
BAE Systems
Baxter
Booz Allen Hamilton
Cox Communications
Exelon
Express Scripts
DIRECTV
Hilton
Humana
J.B. Hunt
Johnson Controls
Lockheed Martin
Modis
Prudential
Siemens
Starbucks
Synchrony Financial
Teleperformance
TEKsystems
Opportunity
The Opportunity category rounds up the companies that have created an environment of opportunity for veterans to apply their existing skills and have the opportunity to train on the job to increase their skill set. These employers have positions that fit our veteran members skillset impeccably or have programs to train our service members.
BNSF Railway
Boeing
CBRE
Chesapeake Energy
Cintas
Computershare
Cooper Standard
EcoLab
FDM Group
General Dynamics Information Technology
Global Contract Professionals
KBR
Leidos
Miller-Valentine Group
National Grid
Perspecta
Prestige Engineering
Rackspace
Raytheon
STS Technical Services
USAA
Zeiders
Community Impact
The Community Impact category highlights the amazing work that our Top 110 are doing to give back to veteran communities through their involvement and support of programs that assist, rehabilitate, and aid veteran families.
AECOM
Alorica
CarMax
Combined Insurance
Cushman & Wakefield
Deloitte
Dominion Energy
General Motors
Habitat for Humanity
Home Depot
JPMorgan Chase
L3 Technologies
McKesson
Medtronic
Nations Lending Corporation
Progressive
Sallyport
Tatitlek Corporation
TQL
Union Pacific
U.S. Bank
Verizon
Company Values
Each military branch operates under a set of core values that unites the active duty, reserves, and veterans on the battlefield and in civilian life.The companies in the Company Values category embody some of the many values that the military embody.
Aetna
Amgen
C & J Energy Services
DaVita
ATSG
DynCorp
Eaton
Engility
EPS Corporation
Esterline
First Data Corporation
Go Wireless
Koch
KPMG
Logistics Solutions Group
ManTech
Merck
PAE
PricewaterhouseCoopers
Spectrum
SAIC
Sundt
Wegmans
Xcel Energy