Customer Spotlight: Lamar Advertising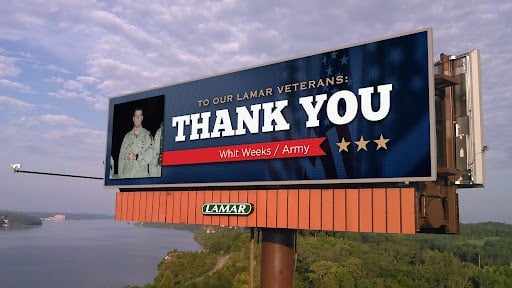 Founded in 1902, Lamar Advertising Company is one of the largest outdoor advertising companies in the world, with approximately 361,000 displays across the United States and Canada. Lamar offers advertisers a variety of billboard, interstate logo, transit and airport advertising formats. Thanks to our Sales Account Executives, Installers, Administrative Support Staff, and all of our employees, we are also proud to offer our customers the largest network of digital billboards in the United States with over 4,600 displays. We are our own biggest competitor thanks to the hard work and dedication of our teams!
At Lamar, we take pride in offering our veteran, service member, military spouse employees a supportive home, complemented by a wide array of benefits. These include 120 hours of paid time off (which increases with tenure), 12 paid company holidays, multiple medical plan options, and ample training and advancement opportunities. Our commitment extends beyond mere employment; we are dedicated to fostering a fair, inclusive, and welcoming work environment.
A few of the perks of being a veteran, service member, or military spouse at Lamar includes:
Extensive Safety Training: We provide extensive training for both our safety-sensitive and non-safety-sensitive employees, ensuring they are well-prepared to carry out their roles confidently and safely.
Emerging Leaders Program: Our 'Emerging Leaders' program is designed to nurture the future leaders of Lamar, fostering growth and development within our organization. No matter your first position at Lamar, there are always opportunities to learn and grow within the organization. 
Sales School: Held at our corporate headquarters in Baton Rouge multiple times a year, our 'Sales School' offers an excellent opportunity for our sales employees from all corners of the country to come together to learn from each other and enhance their skills.
Transfer and Promotion Opportunities: With offices and locations spanning the entire nation, there are always opportunities to transfer and ascend the ladder making Lamar a great place to work for military families that may be relocated due to permanent change of station. We also have remote positions through our Corporate office from time to time! 
Wellness Incentives: Through the VirginPulse app, we empower employees with a wide range of free features, from fitness challenges to tracking healthy habits. Our aim is to encourage employees to prioritize their physical and mental health.
Investment in Paid Time Off: Lamar offers 12 paid company holidays and 120 hours of PTO. As you invest more time in Lamar, PTO increases in weekly increments. 
Military Service Leave: As required by USERRA, we are pleased to provide a military leave of absence to employees who are absent from work because of service in the U.S. uniformed services.
At Lamar, we are dedicated to not only providing the best work experience but also ensuring a healthy work-life balance for all our valued employees. Check out some of the quotes below to see what a few of our amazing military service employees have had to say!
"Lamar provides a team that cares about your success and happiness. You are not just a number but a valuable asset."
John Altman, Account Executive (Marines/Army National Guard, 7 yrs.)
"Lamar has a special and diverse culture that provides for tremendous personal growth and success to those who consistently focus on performance and doing the right thing – not only for Lamar, but also for our customers, our team members, and the communities we serve."
Charlie Furman, VP/Regional Manager (Army National Guard, 9 yrs.)
"Lamar Advertising has been great to me and my family…I love my job and can't imagine working in any other field or for any other company than Lamar Advertising."
Rueban J. Blankenship, VP/General Manager (Navy, 8 yrs.)
"My Husband ended up going overseas, and the team here was supportive and helped me through the first few months. I cannot stress how amazing [my] team is!"
Cristina Soto, Campaign Coordinator (Cristina's husband is active duty Space Force, 5 yrs.)