Military Hire's mission is to serve veterans, military spouses, and family members to find fulfilling careers after military service.
We're interested in providing a complete range of services to those with military backgrounds. Whether you are seeking a first job after military transition, or are looking to expand your opportunities at a later stage in your career, we're here to help you. 
Thousands of companies are interested in hiring veterans and seek candidates with the skills, values, and character that is ingrained in military culture. To connect with these companies, it's easy to register, upload your resume, and start searching for and applying to jobs. 
If you need job placement services or career counseling, please reach out to our partner, AMVETS, who can guide you through Military Hire to find the right opportunity for you.  Email them today by emailing cjackson@amvets.org.
You've served your country. Now let us serve you.
Sign up now- it's free, quick, and easy.
Be found by hundreds of veteran friendly companies-post your resume! Don't worry if it's not perfect – you can easily update it later!
Don't wait for companies to find you. Set up automated JobScouts to scour our database and notify you of new jobs for veterans.
Military Hire is invested in your success! We partner with companies that value military service and want to hire veterans. When a loved one is serving in the armed forces, the whole family is involved, and Military Hire along with our Employers, supports hiring of military spouses and immediate family members as well.
Through our Alliance Partners, Military Hire helps job seekers navigate today's job market with these services:
Resume writing and review services

Job coaching and skills assessment

Interviewing skills and practice

Mental health and wellness services 

Education and technical certifications

Job Fairs (online and in-person)
Veterans and their families have used Military Hire to find jobs.
Recruiters have used Military Hire to find high-quality candidates.
Available jobs with veteran-friendly employers
February 24, 2021
7:00 PM to 8:00 PM EST
Attend this event learn about everything the Veteran Spouse Network has to offer in Spring 2021! You will have a chance to learn more about each of our programs and get your questions answered live, as well as hear from past participants and the veteran spouses leading our programs. This a virtual, online event.
March 5, 2021
10:00 AM to 11:00 AM EST
This presentation from the Ohio Department of Veterans Services helps employers to learn more about military spouses, to include demographics, the challenges they face, and best practices to recruit and hire them. We'll also take a look at the current employment landscape, some of the benefits available to spouses, and discuss military caregivers. This a virtual, online event.
March 19, 2021
10:00 AM to 11:00 AM EST
This presentation from the Ohio Department of Veterans Services discusses best practices for recruiting and onboarding veterans. It also lays out a 10-step process on creating a Veteran Employee Resource Group (VERG) for your organization while taking a look a VERG best practices from other employers. This a virtual, online event.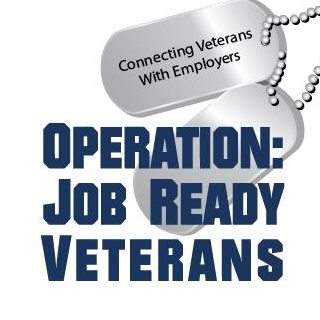 March 23, 2021
10:00 AM to 12:00 PM EST
Operation: Job Ready Veterans presents a 2-hour informational session on how to create and customize a federal resume, apply for federal job positions, and a Q+A session to follow. This a virtual, online event.
Military Hire April Job Fair. Save The Date!
April 8, 2021
2:00 PM to 5:00 PM EST
Focus areas include:
Skilled Trades/Labor
Business and Office Administration
Operations/Logistics
Contact
janet.giles@jobzoneonline.com or call 434-263-5102
This a virtual, online event.