Diversity, Equity & Inclusion Strategy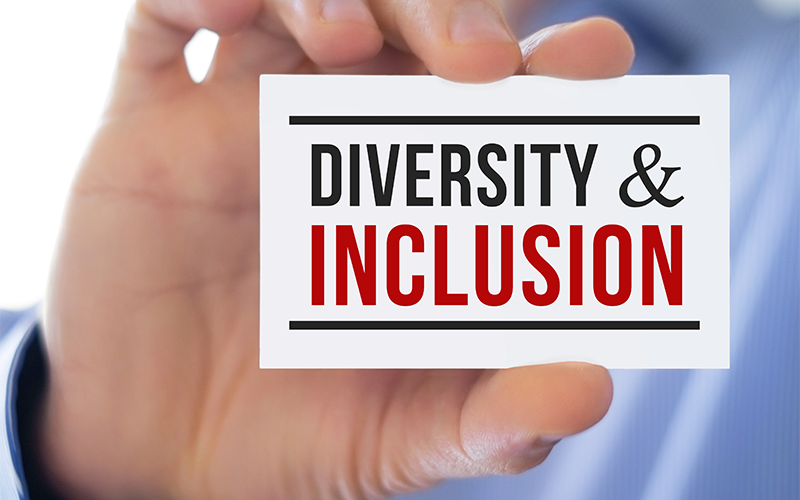 Did You Know That Racially & Ethnically Diverse Companies are 35% More Likely to Perform Better?
Organizations of all sizes recognize this and are working hard to ramp up their diversity, equity and inclusion (DEI or DE&I) efforts. PRADCO, a consultancy specializing in organizational development and employee development published an article titled "How to Enhance Your Diversity, Equity & Inclusion Program", stating that "by being intentional and purposeful about assembling a diverse workforce and promoting equity, organizations can use their influence to fight systemic oppression, foster progress, and create a stronger work culture for long-term employee engagement."
What is Diversity, Equity & Inclusion (DE&I)?
Diversity
Diversity is the presence of difference within a given setting. Some examples of diversity include race, gender, ethnicity, religion, nationality, sexual orientation.
Equity
Despite everyone's differences, equity involves people having access to the same opportunities. Such examples include attraction, promotion and retention.
Inclusion
Lastly, inclusion is different in that it addresses people with different identities, the feeling that they are being valued within a given setting. This is often seen in the workplace, within teams, and many industries.
How to Improve Your Diversity, Equity & Inclusion
with Military Veterans
Many companies struggle to promote diversity and inclusion in the workplace with effective recruiting. Diversity is not only about race and gender, as it is also about individuals contributing their unique experiences, backgrounds and ideas. What better way to improve your diversity and inclusion efforts than hiring veterans at your company? For that reason, organizations are quickly learning that veterans offer a wide range of specialized knowledge, experiences, and skills.
Partner with a Company Who Specializes in Military Veterans
This is why it can be extremely beneficial to partner with a company that has expertise in providing Veterans job opportunities and job search resources for veterans, like MilitaryHire.com. Here at MilitaryHire, we have more than 650,000 highly skilled and trained military professionals in our database. Statistics published by the Department of Labor state that roughly 250,000 servicemen and women transitioning out of the United States military every year and returning to civilian life, the exceptional pool of talent continues to grow.
Military Hire – Serving Those Who Served
We are committed to help diversify the workforce by connecting talent to companies that prioritize diversity and inclusion. Furthermore, Military Hire's mission is to "Serve Those Who Served." We connect the veterans of America's armed forces and military spouses with employers who value the experience and skills that military service encompasses. Browse our qualified and diverse pool of military professionals and get started recruiting top candidates today!
To learn more about the benefits of hiring veterans with Military Hire check out our blog post "The Benefits of Hiring Military Veterans".
How to Improve Your Diversity, Equity & Inclusion
with Military Veterans
There are many different practices for diversity and inclusion, and it is important to find which work best for your organization. Listed below are the best practices to follow when supercharging your D&I efforts.
Finding a Diverse Hiring Pool to Choose From
First, this may be easier than you think. Creating diversity within your organization can start with ensuring you understand diversity yourself and that your organization as a whole mirrors the importance of diversity. Additionally, checking your job postings to tailor them for veterans and other minorities with transferable skills will help you find the candidates you are searching for.
Making All Employee Feel Welcome & Important
Your employees should feel like they can be themselves. Likewise, that they won't be judged for differing views and cultural practices. As a result, this facilitates a sense of belonging and leads to employee loyalty while also fostering better social bonds and creativity in the workplace.
Automate the Diversity & Inclusion Practice
Setting goals for hiring may be great for expanding diversity in terms of the numbers. However, this won't automatically create an inclusive culture. To create the best employee DE&I experience and retain talent top talent, take a proper look at the total employee experience. This will help so that you can promote inclusion daily and then measure its impact.
Remember That Inclusion is a Continual Process
D&I is not a "set it and forget it" deal. To truly foster a diverse and inclusive environment you are going to have to work on your efforts daily. That includes tracking progress and always finding areas to improve.
Help Your Employee Thrive
Develop a corporate culture that enables employees to contribute their unique skills to your organization. Undoubtedly, the best-fit employees are those who are capable of bringing your mission, values, and purpose to life with their hard work and dedication. You will need to work to help bring the best out of them.
Understand Your Purpose
As you build a diverse and inclusive workplace and culture you have to connect the dots between what's going on inside and outside of your company. To this end, consider what does your brand conveys about your culture and people? By the same token, are your customer base and employee base on the same page? If not, why? Inclusion encompasses the way a company operates, works, communicates, and contributes….inside and out.
Leverage Employee Resource Groups
Employee resource groups increase employee engagement. Moreover, this can help veterans adjust to corporate life at a large organization. Veterans who went straight from high school to the military have a particularly hard time adjusting to civilian jobs. Employee resource groups can be key to getting veterans acclimated to a new routine. By the same token, this also can help recreate the team camaraderie that they have come to love and rely on. Many even refer to as the highlight of their service.
Why Military Hire?
MilitaryHire provides the most experienced channel for hiring military veterans. For that reason, we've helped over 650,000 veterans and 5,000 companies find employee solutions. When multiple voices — each with their own outlooks and experiences — come together, each task at hand gets a fresh perspective that leads to innovative ideas that break barriers and help scale your company. This leads to higher productivity and strengthens your competitive advantage — not to mention the fact that your talent pool widens exceptionally.
Contact Us Today to Start Diversifying Your Workforce